View our Room Rates and Gallery here.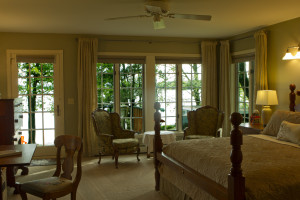 Our Rooms:  The Green Heron has two very comfortable guest rooms waiting for you. Both are on the main floor and have a beautiful view of the lake.  Each room has it's own private, connected bathroom and a seating area with a table large enough to use as a desk, game or breakfast table. We can bring you an additional hard chair if desired. The windows are easy to open and close and have light blocking shades on them. There are hair dryers, surge protectors, dual alarm clock/ iPod, iPhone dock and chargers with soothing noise functions, and Wi-Fi provided in each room. (whew) Iron and ironing board available upon request.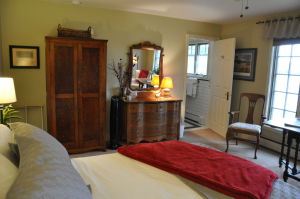 You'll find beach towels and personal sized blankets to cuddle with inside or out. In one of the table drawers you'll find suggestions for dining (in town and waterfront), places to explore in town or on the trails, community calendars and special events. You'll also find a journal that we encourage you to record highlights of your stay in, draw a picture, write a poem…maybe leave a note to friends you know are coming later. We'll keep these journals as a part of the Green Heron's history and hope you will have fun with them.
If there are items you've forgotten or didn't think of just let us know. We may be able to help.
While the Green Heron is not air-conditioned, the ceiling fans, lake breeze and shade trees keep our rooms cool in the summer and allow for opening the windows to listen to the loons calling, or the early morning bird song. Radiant heat keeps us toasty in the cooler months without the drying effect of forced air.
To support our efforts at being as "green" as is feasible for us, and keep our guests comfortable we use unscented, natural, cleaning and laundry products when possible. We freshen the rooms daily, but launder bedding and towels between guests, or upon request for those guests staying longer than 2 days.
To ensure the safety and comfort of all our guests, there is no smoking or use of any tobacco/nicotine products inside the Green Heron, near windows or doors, or on the waterfront. Please remember to leave all open flame candles at home.
We have resident pets, and in some circumstances allow guest pets at the inn.
Let us know if there is anything we can do to help make your stay more comfortable.
View our Room Rates and Gallery here.